506 W. 19th Street, Ste.208, Houston, Texas 77008 713-695-1684






ABOUT US!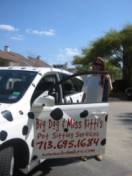 Sharon Murphy, owner of BDMKPS, not only enjoys animals and her business, but also believes, completely, in providing quality and loving pet care, while ensuring the safety and security of her clients' homes.
"By utilizing our services, clients know they can leave their pets and homes with no worries," says Sharon. "When they give us their keys and leave their pets with us, they can rest assured that only the highest quality pet care, confidentiality and precautions will be provided in
their absence."
Sharon's dedication and love for animals is apparent in both her training, which is on going, and her professional pet related associations. Her background consists of experience with dogs, cats, birds, fish, reptiles and yes, even rodents. Additionally, Sharon is certified in Pet CPR and First Aid and is trained in Dental Care for Pets; as well as Senior Pet-izen care. She believes in continuing education and constantly works to stay well informed an up to date on issues regarding pets and the pet care industry.
Ms. Murphy is also very active in promoting professional pet care. As the founder of the Houston Area Pet Sitting Associates, and as a member of PSI (Pet Sitters International) along with having served on the board of directors for 2 national pet sitting organizations, she is at the center of the latest ideas and techniques that enable pets to stay out of kennels and at home where they belong, when their owners can't be there. Newcomers to the pet care industry, as well as seasoned business owners, often seek Sharon's guidance on business and pet care issues.

Call Big Dog & Miss Kitti's Pet Sitting Services at (713) 695-1684 today!
If you are experiencing any problems with this website, please contact our Webmaster