506 W. 19th Street, Ste.208, Houston, Texas 77008 713-695-1684






REFERENCES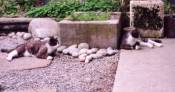 AMADEAUS and MOZART
"Sharon is a wonderful and caring person. Knowing that this particular person was here in our absence, allowed us to relax and enjoy our trips without the slightest concern for our home or our beloved pet. A better, more conscientious, or more trustworthy individual would be very difficult to find. We unhesitatingly recommend Sharon to anyone who loves their pet as much as we love ours."
Ralph & Phyllis R.
"Sharon Murphy has been an absolute blessing in my very busy life! She has come to my rescue numerous times when I couldn't leave the office or needed to catch a last minute flight. Kelsey & Emma adore her and I know that my babies are always in good hands when she comes to take them on their daily walks. Sharon is a very trust worthy person that truly loves animals. She goes above and beyond her job description. On a daily basis, she not only walks my dogs, she changes their water, plays with them, gives them plenty of love and writes me daily notes of her pet visit. Sharon has been my pet sitter for over 2 years now and I would highly recommend her to anyone."
Kristin A.
"I highly recommend Big Dog and Miss Kitti's. When I am away from home, Rufus and Cinnamon continue to be happy dogs, while I experience peace of mind. We never skip a beat. Thank you Sharon!"
Christie S.
"Sharon is a very caring, experienced and trustworthy pet sitter. She was invaluable to me when I lost my Sasha. She jumped in and took care of all the final arrangements, something I really couldn't deal with at that time! I would recommend her to any one that finds themselves in need of pet care for whatever reason or situation."
Avery R.
"Sharon is a reliable, caring, and honest person. When the need arises, Sharon will be there and do anything needed for your pet. She communicates with you and keeps you aware of your pet's activity during the day. Baker Jo looks forward to her visits and loves her dearly."
Susan L.

Call Big Dog & Miss Kitti's Pet Sitting Services at (713) 695-1684 today!
If you are experiencing any problems with this website, please contact our
Webmaster